FORA COMFORT Pro GD40
FORA Comfort Pro GD40 is highly accurate and overcomes hematocrit limitations with innovative 5-Electrode Technology.
What is 5-Electrode Technology?
It is highly accurate as it utilizes a 5-point electro-detection strip technology that minimizes interferences from varying hematocrit levels.
Five Electro-Detection Points
How Does it Work?
Glucose levels are measured and corrected by a factor depending on their hematocrit levels.
A corrected glucose level is converted to a plasma-calibrated result.
With the innovative 5-Electrode Technology, FORA COMFORT pro GD40 offers an ultimate platform for accurate, fast and reliable point-of-care testing in clinics and healthcare centers.
Strips
Advanced Strip Technology

Superior accuracy is achieved through utilizing the GDH-FAD enzyme with hematocrit interference correction. This supports blood glucose testing in extreme hematocrit ranges 0-70%.
Super Sip-In (SSI) technology
Blood application is made easier and faster with a light touch. Our SSI technology allows blood to be easily drawn out onto the absorbent area of the strip, resulting in fast and accurate glucose detection.
Touch of Assurance
The assurance of averting from false start, testing error and unnecessary waste of strip is provided.
Lancing
New Lancing Comfort
Minimal cutaneous damage is achieved through a tri-bevel needle design and minimal needle-tip vibration during skin penetration.
| | |
| --- | --- |
| Power Source | • Two AAA batteries |
| | |
| --- | --- |
| Strip Technic | • Strip indication light • Strip ejection |
| | |
| --- | --- |
| Data Transmission | • RS232 (for GD40a only) • Wireless (for GD40b only) |
Memory and Mode

• a capacity of 1000 results capacity • AC/ PC in memory • QC record
• 4 sets of daily alarms • 7/14/21/28/6090 day averages
• Ketone warning: YES >= 240 mg/dL (13.3 mmol/L)
Test Strip

• Enzyme: GDH-FAD
• Strip code: Code card
• Detection method: Electrochemical amperometric
• Hematocrit range: 0-70% • Result range: 10-600 mg/dL (0.5-33.3 mmol/L)
Blood Testing

• Sample size: 1.1 uL • Result time: 5 seconds
• Sample type: Capillary, venous, arterial and neonatal whole blood
Environmental Requirements

• Operating condition 10℃ to 40℃ (50℉ to 104℉), below 85% R.H. (no condensing)
• Storage condition-20℃ to 60℃ (-4℉ to 140℉), 95% R.H.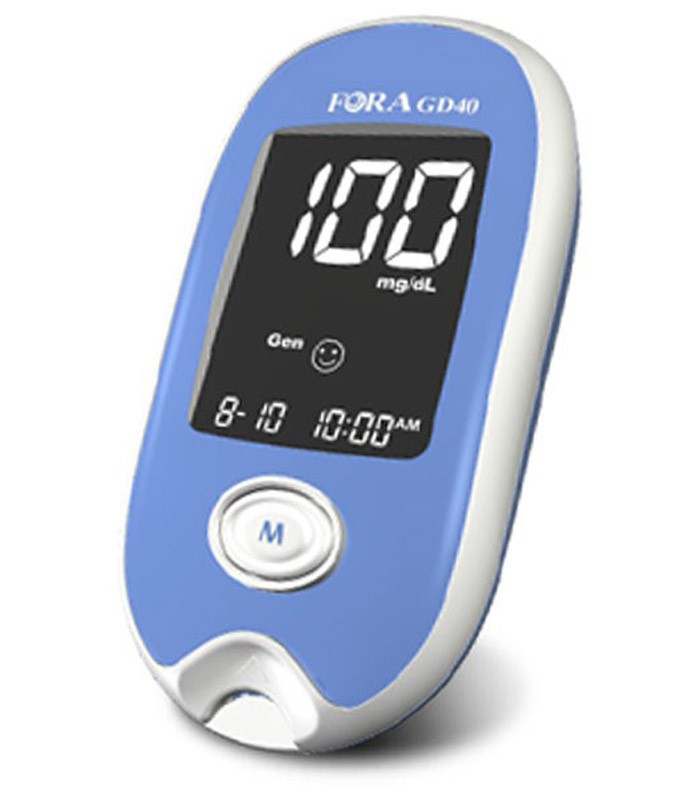 Support & manuals
Find information, manuals. Contact our customer support if you would like our friendly agents to help you resolve an issue.