IR19
Key Features
Regular self-monitoring of the foot temperature with multi-function contactless thermometer IR19 may assist patients to discover early stages of foot ulceration and seek help from doctors.
● Contactless Infrared Multi-Function Thermometer for Forehead, Surface and Foot Temperature Measurements
● Measurement Time : 1 second
● Extra Large Display
● Waterproof Probe
● Memory Capacity of 10 measurements
● Meet the Accuracy Requirement Specification ASTM E1965.98 and the EC directive 93/42/EEC
Specification

Dimension & Weight
1149 (L) x 44 (W) x 54.23 (H) mm, 73.2g (with battery)
Power Source
2 x 1.5 V AAA alkaline batteries
Displayed temperature range
23°C to 44°C (73.4°F to 111.2°F)
Display resolution
0.1 °F/0.1°C
Accuracy
±0.3°C (±0.5°F) for the range of
35.0°C (96.8°F) ~ 41.0°C (102.2°F)
Temperature unit
°C or °F
Operating temperature range
10°C to 40°C (50°F to 104°F)
Operating humidity
95% RH or less
Storage temperature range
-20°C to 60°C (-4°F to 140°F)
Storage humidity
95% RH or less
Memory capacity
10 measurements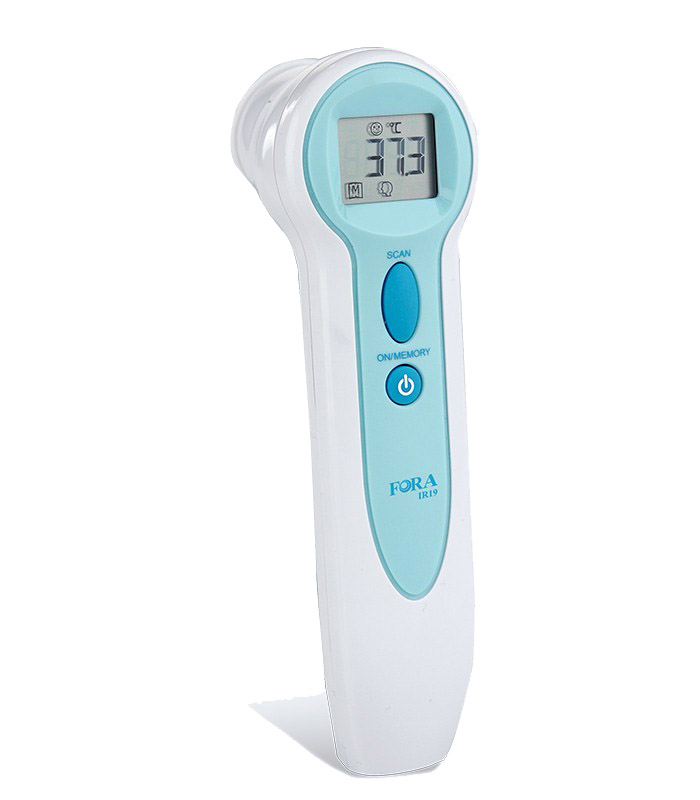 Support & manuals
Find information, manuals. Contact our customer support if you would like our friendly agents to help you resolve an issue.