ACTIVE plus
Key Features
 AVG Technology (Automated Averaging of 3 Measurements) conducts THREE measurements within TWO minutes to provide the most accurate and reliable final average test result.
IRB (Irregular Rapid Beat) Technology: a technology with high precision to detect pulse irregularities during the measurement. It alerts the user of any unusual spikes, patterns and trends for further check-ups with a doctor, but it is not a substitute for a cardiac examination.


Auscultatory Mode: a multi-purpose device for both patients and professionals
Smart Memory Function: helps collect various day-time average results (24H/ morning/ evening) to detect morning and evening hypertension
Clear & Wide Screen View: provides comfort for people of all ages and eyesight quality when reading the results
Flexible & Easy-Care Wide Range Cuff: one cuff (24-43cm) fits both medium and large arm sizes
Accuracy by International Protocol: clinical accuracy of the device is further guaranteed by the ESH validation
Designed by ForaCare Switzerland
Memory of up to 60 Tests with dates & times
Specification

System performance
Power source
Four 1.5V AA alkaline batteries
Size of monitor w/o cuff
160 (L) x 95 mm (W) x 66.5 mm (H),
400g with batteries.
Cuff Size
24-43 cm (9.4 - 16.9 inches)
with air tube 100 cm
Memory
Maximum 60 memory records
Power saving
Automatic power off if system idle for 3 minutes
System operating conditions
10°C to 40°C (50°F to104°F),
below 85% RH
Meter storage conditions
-20°C to 60°C(-4°F to140°F),
below 95% RH
Power Supply Input
DC +6V / 1A (max) via Power Plug
Blood pressure measurement performance
Measurement unit
mmHg
Systolic Measurement Range
50 mmHg -255 mmHg
Diastolic Measurement Range
25 mmHg -195 mmHg
Pulse Rate Measurement Range
40 -199 beats / minute
Accuracy of Pressure
±3 mmHg or ±2% of reading
Accuracy of Pulse rate
±4% of reading
How To Use (Blood Pressure)

Before Measurement

1. Sit down for at least 10 minutes before measuring.

2. Place your elbow on a flat surface and relax your hand with the palm facing up.

3. Apply the proper pressure cuff and make sure the cuff is at the same height as your heart.
Taking Measurements

Single Measurement

1. Press to start. Then the cuff will begin to inflate automatically.

2. The "heart symbol will flash when a pulse is detected during the inflation.

3. After the measurement, the monitor will display the systolic pressure, diastolic pressure and pulse rate

Averaging Measurement (for FORA P30 Plus only)

1. Press to start. Then the cuff will begin to inflate automatically.

2. The monitor will take 3 measurements consecutively.

3. After 3 measurements are completed, the results are averaged and displayed with "AVERAGE symbol" on the monitor

Auscultatory Measurement (Only well- trained staff may use this mode to measure blood pressure manually.)

1. Press and hold until "AUS symbol"appears on the display with a beep. The cuff will begin to inflate and then deflate automatically.

2. Press to adjust the inflation pressure if necessary, and release to start the measurement.

3. The systolic pressure is measured when the operator first hears the sound of the pulse. Then the diastolic pressure is measured until the sound of the pulse disappears.

4. The monitor will return to 0 mmHg after the measurement is completed.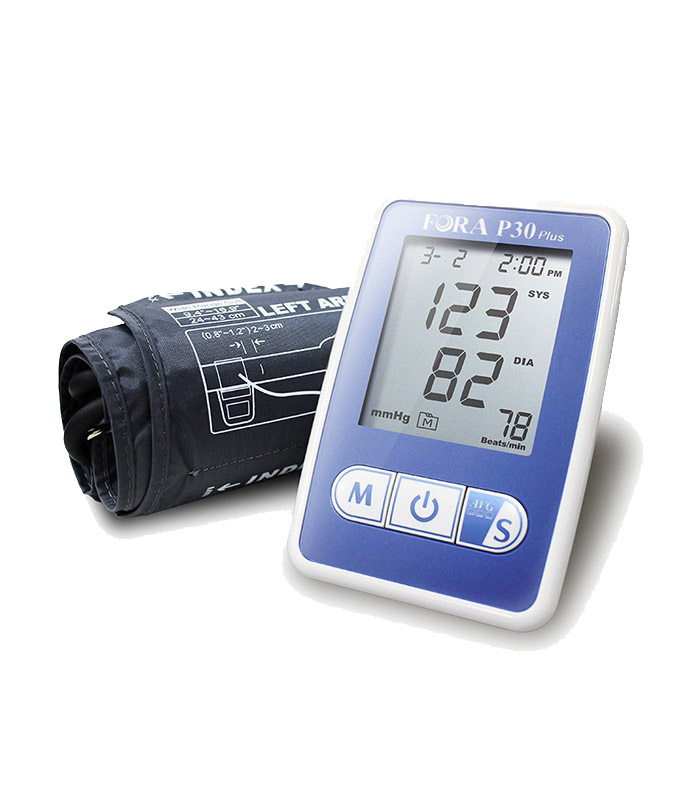 Support & manuals
Find information, manuals. Contact our customer support if you would like our friendly agents to help you resolve an issue.